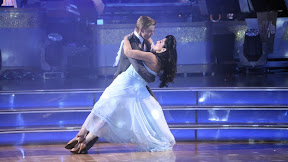 This season I have not watched
Dancing with the Stars
religiously. I've pretty much been turned off by all the lame controversy surrounding it, and the fact that one of my favorite reality stars,
Kristin Cavallari
, was booted off early on.
I know...judge me!
Anyway, it was crazy on my part, because two people that I absolutely love were in the process of doing something beautiful together, and that's
Ricki Lake
and
Derek Hough
.
I was such a huge fan of Ricki's back in the day when no one even knew her name and she played Tracy Turnblad in the movie
Hairspray
. My all time favorite, let me tell you.
By the time I was in middle school, I was teaching my best friend at the time, Jessamy, how to do the "Roach," during show choir rehearsals.
(Jess, forgive me for sharing. Mrs. Lagassey, thank you for your patience *wink*)
I learned that dance from Ricki Lake playing Tracy, but I'm pretty sure I passed the cute moves off as my own.
Shhhhh
!
I always thought, "Wow, that white girl can dance, and she loves integration!"
LOL...movies!
Fast forward two decades and enter Derek Hough. From the moment I saw him dance, I knew he was the Patrick Swayze of the 21st century. (A dancing genius and amazing partner.)
Put the two of them together and THIS is what you get:
Absolute magic!
The chemistry between Ricki Lake and Derek Hough is amazing. They are melting into each other and creating such perfect fusion on that dance floor.
This is honestly one of THE most beautiful pieces I've seen from any partners on any season of the show. I loved their waltz, so I had to share.
That is what LOVE looks like.
The love of DANCE!