My mom is one of those people who loves to have a big deal made over her. She won't admit to this, but she loves to be the center of attention. Ask anyone, and they'll tell you it's true (if they really know her).
So every couple of years we hear her complaining about her birthday falling on Thanksgiving. This year is one of them.
(Don't tell her I told you, but she ruined Thanksgiving dinner the day she was born, as my grandmother was rushed off to the hospital and no one was allowed to eat.)
Nowadays, her biggest concern is that we'll all be so concerned with the food that we won't really pay attention to the fact that it is her
BIG
day too.
Awwww...
So this year, I thought it would be nice to do something special for her that would let her know that we haven't forgotten all about her.
As I considered some of the things that would make her feel special, one particular option really seemed to fit well.
Flowers
!
There are many online sites who take orders and deliver flowers. One of the sites I checked out was Serenata Flowers. They make
sending flowers
very easy and delivery is FREE!
Their website was really easy to navigate, and because they deliver internationally, they have many country options to choose where you would like to send flowers to. That's convenient.
The arrangement I think my mom would really love is called "Red Heat."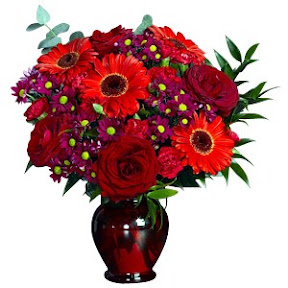 I was thinking it would be really nice to have the flowers delivered to her in the morning, and since she will be hosting our family's Thanksgiving dinner at her place, she could use the flowers as a centerpiece for dinner.
It's an option.
Some people may consider learning about creating
floral arrangements and plant care
and can put together something nice for a fraction of the price, but since I'm not good at that, buying online is perfect for me.
After doing some research, I found out that Thanksgiving will fall on November 24th in: 2011, 2016, 2022, 2033, 2039, 2044.
I'll definitely have to keep this in mind and keep
Serenata Flowers
bookmarked!
Photo Credits: Serenata Flowers, Greeting Card Universe