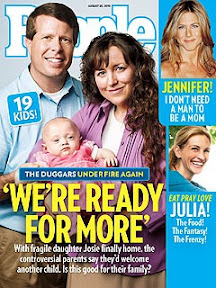 They've done it again (no pun intended). It's been announced that the
Duggars are expecting baby number 20
!
2-0 my friends. Can you believe it?
At 45 years old, and after 19 kids, Michelle's uterus is still kicking.
REALLY!!!
That woman's body is AMAZING!
After 2 horrific pregnancies of my own, plagued by
hyperemesis gravidarum
, I know I'll never have the large family that I once planned.
It saddens me a lot to think about it, and I can't help but wish I could borrow Michelle's uterus sometimes!
My 2 girls have been such a blessing to me though, and so for that I am very grateful.
So,
Congratulations to Jim Bob and Michelle Duggar
on another pregnancy!
I can't wait to see the precious new addition to their beautiful family!