Yesterday, I received an email from hubby, obviously annoyed at the fact that more iPhone apps have been purchased.

On Jul 20, 2011, at 8:02 AM, Ryan Sanders wrote:
Did Bella buy these or something? This is not good.
Begin forwarded message:
From: iTunes Store
Date:
July 20, 2011
To:
Ryan Sanders
Subject:
Your receipt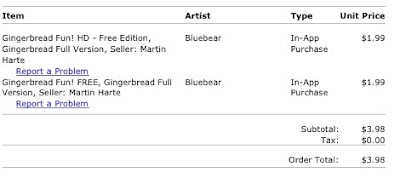 After looking over the receipt, I confirmed that the purchases weren't made by me.
By who then, you wonder?
By my unsuspecting 4 year old techie daughter, Isabella! (of course)
My response to hubby's inquiry:
I had no idea. Okay...no more free downloads in front of her! My word!
Seriously, I'm trying to figure out how the apps say "FREE" in the title, but yet I have been charged $1.99 twice (for the same purchase).
I'm going to need Bluebear to explain that to me, for sure.
Bella is normally really good about looking at the apps and choosing the FREE apps from iTunes and asking for them, so I'm not mad at her at all.
She knows I'm always more than happy to punch in my password for any free kiddie app that she requests.
I am mad at the sneakiness of the app developers. They prey on kids by creating other ads and busy stuff all over their apps for them to click on and empty their parents wallets with innocent enjoyment.
(The app is preschool level. My toddler even plays it)
I know Bella didn't know she was buying anything. The app developers make that so easy!
First, they make a flashy colored button for the In-App purchase. (surely to a small child this looks like a "start" button for the game.
Then they fill the screen with a bunch of text. (small children can't read, they're just clicking around to try to get to the game)
Then depending on which button they push, they receive even more text that they can't read. (once again, they'll click around trying to get to the game)
Ultimately, they'll wind up at the password entry screen to confirm the In-App purchase. Depending on how long ago you last entered your password, it may still be active.
One click of a button can buy you a very expensive app that is non-refundable.
SCORE! (for developers)
I know a lot of money is being pocketed by this technique.
There really isn't a way to fight it.
My solution:
Download kiddie apps at night that they can play with the next day.

Never enter your password and hand over the iPhone, iPad, or iPod to children for at least twenty to thirty minutes.

Stay in close proximity while the kids play with apps. (Chances are if there is text that pops up with you nearby, they may ask you to read it to them.)
So now that hubby and I have learned a valuable lesson about our password being active for a time after downloading apps, next I'd like to learn how apps that are FREE, charge so much?
Clutching my wallet
.
;(